Roadmap to Real Estate™ FREE Path to REIA NYC Membership & Success Strategy Session (For Non Members)
Interested in Real Estate and Joining REIA NYC?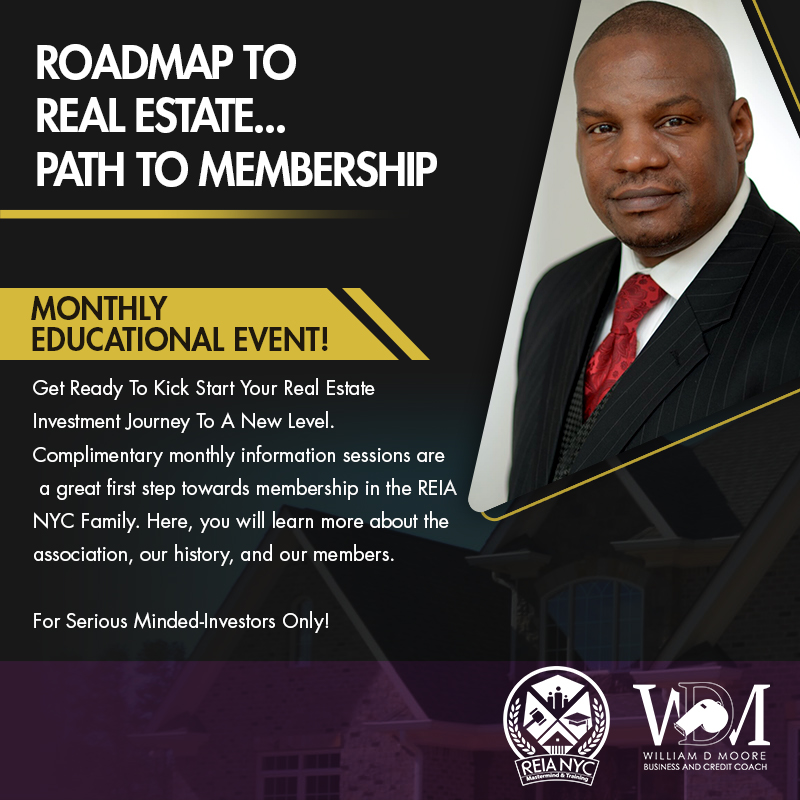 Attend Our Roadmap to Real Estate (Path to REIA NYC Membership)

Information sessions are a great first step towards membership in the REIA NYC Family. Here, you will learn more about the association, our history, and our members.

Get Ready To Kick Start Your Real Estate Investment Journey On A Whole New Level
Strictly For Serious-Minded People!!!

We will review the business outcomes you're targeting for your real esate investment business and discuss the different real estat options to help you arrive at your desired destination.
During the information session, all potential prospective members will have the opportunity to sign up for membership.

With access to the industry's leading professionals, educational seminars and first-class networking events, REIA NYC offers benefits that continue throughout the year.  Gain access to the area's leading resources and strategic entrepreneurs today.

TAKEAWAYS
• Who we are/What we do
• Benefits of Joining
• Overview of Real Estate Programs
• Expectations of Membership
• Membership Process
• Meetings
• And More

REGISTER NOW! (No Walk-Ins Allowed)

For more information, or for any questions you have, contact William Moore, Director of Membership at [email protected] or (917) 407-9209!